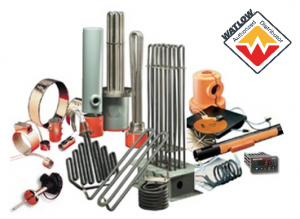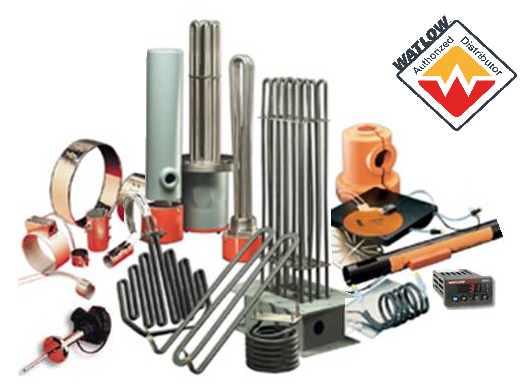 Sensemaster is an authorized distributor of Watlow heating products. Watlow are a well known and respected industry leader in the design and manufacture of all of the components of a complete thermal system, including heating elements, temperature sensors, temperature controls and power controls.
Whether your requirement is for thermocouples, heaters or process controllers, Sensemaster is your 'Heating Solution Provider'.
Heaters – A wide variety of designs for every application.
Sensemaster supplies heating products to Semiconductor, Plastics, Medical, Aerospace and Food industries. By using products manufacturered from only premium materials we can provide our customers with products with enhanced performance and a longer life
expectancy.
Watlow FLUENT® Provides On Demand Heating in a Small Package
Small, lightweight, robust heater construction
High watt density, low mass heater
Watlow's patented thermal spray technology
Internal thermocouple for high limit control
Suitable for liquids and gasses
FLUENT is a high watt density, low mass heater that enables on demand heating with an ultra-fast response, leading to higher system performance. The standard construction includes an internal baffle to promote turbulent flow and high efficiency, a fast responding, high watt density layered heater circuit, low profile axial lead exit and an internal thermocouple for high limit control. Powered by Watlow's patented thermal spray technology, FLUENT makes use of its entire surface to produce heat, which optimizes heat transfer and temperature uniformity.
Watlow D4T Data Logger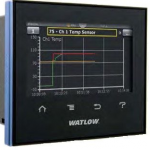 Monitor and record up to 24 sensor inputs
Battery backup and real-time clock
Measurement of temperature, pressure, humidity, 0-10VDC or 0-20mA sensors
Ethernet Modbus® TCP and SCPI,
Math, logic, averaging, minimum, maximum and other function blocks available
The D4T with INTUITION® data logger from Watlow® offers a data logger with a wide range of field removable I/O modules for maximum design flexibility. Configurations can be custom tailored to meet the scaling needs of a tremendous range of equipment and applications while providing exactly the hardware types required for compatibility. The D4T data logger also features a 4.3 inch, color, graphical touch panel. Combining power, flexibility and functionality, this new data logger offers unmatched versatility, and its best-in-class ease of use could very well make user manuals a thing of the past.
Cartridge heaters
Operating temperatures of up to 760°C
Applications:
Moulds, Dies, Platens, Hot plates, Sealings, Life Sciences, Fluid heating. Aerospace, Semiconductor and Foodservice equipment
Band and Nozzle heaters
Operating temperatures of up to 760°C
Applications:
Extruders, Blown Film dies, injection moulding machines and other Cylinder heating applications.
Radiant Heaters
Operating temperatures of up to 1095°C
Applications:
Thermoforming, Heat treatment, High Temperature Furnaces, Tempering and Annealing processes. Paint and epoxy curing and Drying processes.
Flexible Heaters
Operating temperatures of up to 260°C
Applications:
Medical equipment such as blood analysers, respirators therapy units and hydrotherapy baths. Freeze protection for military hardware, aircraft instrumentation and hydraulic equipment. Battery heating, Food service equipment and bonding assemblies. Any application requiring a flexible shape or design.
Tubular and Process heaters
Maximium sheath temperatures of up to 983°C
Applications:
Designed primarily for direct immersion in water, oils, solvents, and other liquids. This style of heater can also be used for heating air and a wide variety of other
gases.
Strip Heaters
Operating temperatures of up to 760°C
Applications:
Dies, moulds, tank, platen heating and ovens. Food warming equipment. Duct, space, and air heating. Freeze and moisture protection.
Ceramic Fibre Heaters
Operating temperatures of up to 1204°C
Applications:
High temperature furnaces. Metal melting, and transfer pipes. Semiconductor, Ceramic, Glass and wire processing.
Temperature Sensing
A variety of temperature sensors including thermocouples, thermocouple wire, thermistors, RTDs, and Infrared thermometers, complete with accessories to suit.
Thermocouples and RTDs
Temperature ranges from – 200°C to 2200°C
Applications:
Plastic injection moulding, Food processing equipment and Semiconductor industries. Metal heat treatment, Medical, Aerospace and Packaging processes.
Temperature Process Controller
A range of accurate PID controllers with universal sensor inputs and a wide range of configurable outputs.
PID Temperature controllers
Standard panel sizes include 1/32 DIN, 1/16 DIN, 1/8 DIN and 1/4 DIN
Applications:
Batch processes, Electroplating and environmental chambers. Furnaces, food heating and Ovens. Medical, packaging, plastics and Semiconductor manufacturing.
Watlow F4T with INTUITION PID Controller
40 profiles up to 50 steps each, with battery backup and real time clock.
Up to 4 PID control channels.
Monitor up to 24 sensor inputs.
Math and logic for total process and machine control.
Solid State Relays
A complete range of power control devices used in conjunction with Watlow temperature controllers.
DIN-A-MITE SSRs
Ratings from 18 amps to 100 amps with voltages from 24 to 600V
Applications:
Semiconductor and food processing. Heat treatment, Glass processing and Drying Ovens. Plastics and Metal processing.